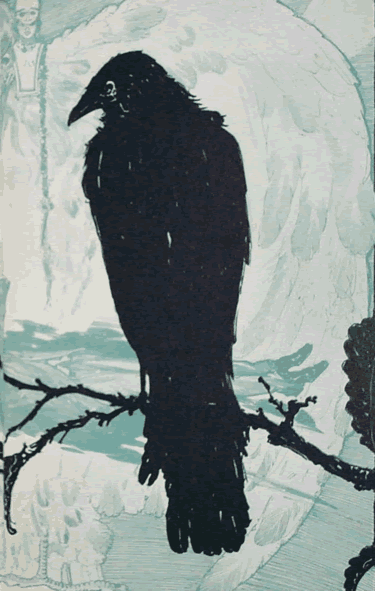 Ravenroost offers personalized service and a diverse general stock, ranging from recently published books to older vintage rarities in classic literature, fiction, non-fiction, poetry, collectible quality first editions, science fiction, illustrated and scholarly works, hobbies & crafts, reference books, and those hard-to-find eclectic oddities. And yes, books by and about Edgar Allan Poe and his works. Ravenroost is a small independent internet shop shipping to customers worldwide since 1997.
You are invited to browse our special selections of hard-to-find and gently used books in the physical and life sciences, history of science and medicine, alchemy, natural history, ethnobotany, gardening, horticulture, orchid culture and plant lore. Click on the title or author hyperlinks in the search results to access full descriptions and multiple images. See more search tips below.  If you are in the cyber neighborhood, please visit us on facebook and twitter. Need unique gift ideas for holidays and special occasions the year round? Browse through our new Gift Ideas category. Can't choose, can't find or need more ideas? Email Us . We are here to help connect real people with real books.
CURRENT UPDATES: See our  "Bargain Booth"  for special sale prices, as well as our newest book categories "First Editions" and "Decorated Bindings" . The Roost just completed a relocation and new stock will  now be added on an ongoing basis so check back frequently. Our Recent Arrivals section at the  very bottom of this page will provide you with a glimpse of our latest inventory additions. 
Please feel free to
Email Us
if you need additional assistance, have any questions or you'd like to be notified of new arrivals tailored more to your personal interests. See our

Terms and Shipping Fees

 for more information about our policies.
For your reference and convenience, our Raven Picks & Links  page offers up-to-date links information and links to resources relating to books, book collecting, specialty gardening, online communities to join and sites to visit. Peruse sources and guides for collectors, book description terminology, preservation, book care and repair, display, archival supplies, library links, bookmarks and other ephemera, fine bindings, autographs, links to our neighborhood independent online booksellers and other special interests. There are also sections for botanists, orchid and other specialty plant enthusiasts.
Other tips: The ongoing "Our Featured Items" section previews special selections as available from all subject areas including: vintagecollectible books, unique gift ideas, classics, orchid culture, natural and native gardening, organic, vegetable, kitchen, herb and theme gardens, miniatures and bonsai, mosses, landscape design, healing gardens, garden sanctuaries, cacti and succulents, resources for garden therapy, topics in botany and selections in fiction, non-fiction and reference books. In addition to searching by title and author, browse subjects and descriptive terms using our keyword and description search boxes to find books featuring new gardening techniques, crafts, hobbies, for homework, bedtime reading, gifts, research and reference needs. To see a larger image and complete description, click on the small thumbnail image for each listing.
A note on our books and book images: Most of our books, with the exception of several titles currently in print, are available as single copies on a first come, first serve basis. Removable, clear archival quality jacket protectors are provided on all books which have dust jackets. We provide images with our book descriptions. In some cases multiple views are available (use the <> prompts). Please note that the images we provide for you are photos or scans of the actual book in our inventory and are not stock mass market photos. If you would like to see an image of a book that does not yet have one provided, or additional images, please email us. The images, book descriptions and content on this site are to be considered the property of Ravenroost Books. All rights reserved.